+ Art of Skateboarding Articles
4th annual PAT WACHTER BOWL CONTEST Alabaster, Alabama May 1, 2010

article by Chris Solomon(aka. AMOR-one) photos by Chris Solomon unless otherwise noted

THE PRODIGAL SON RETURNS!!! - Introduction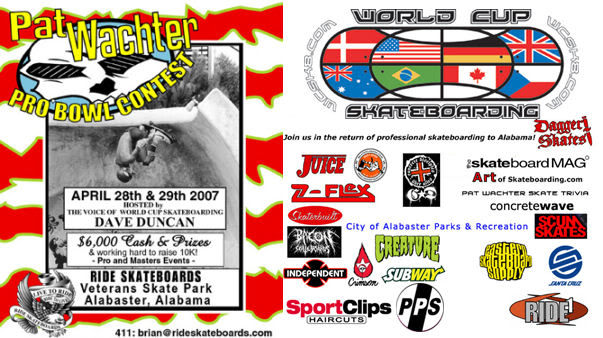 April 28-29, 2007 Alabaster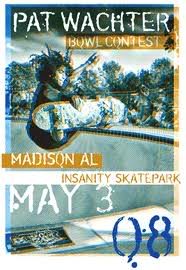 May 3, 2008 Madison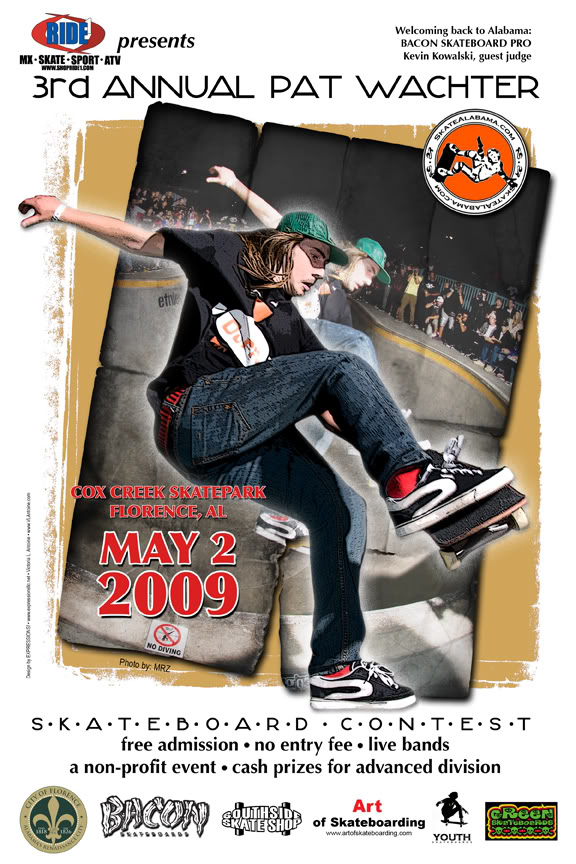 May 2, 2009 Florence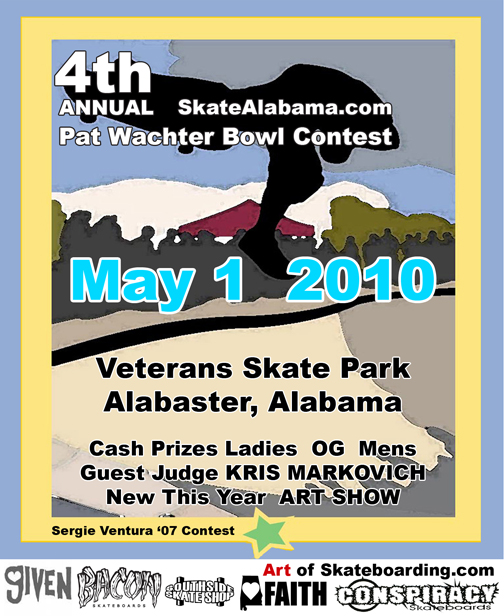 official 2010 poster
In 2007, the Pat Wachter Bowl Contest was born in Alabaster, Alabama. Itís first year was a huge success. Not only did it beat Nascar in Talladega in the same weekend by getting coverage on the front page of the sports section of the Birmingham News, but it got worldwide coverage including Fuel TV and most every major skateboarding magazine and action sports media outlet. Even the mayor of Alabaster had come out during the awards presentation and made a speech congratulating everyone, promising to support future contests and even offering up $10k for the next prize purse. There was so much energy and positivity generated out of that contest with big plans made for future events.
But somehow things changed between then and the planning of the second one. The city of Alabaster had forgotten the promises made. Not only did they make it clear that they would not support the contest again, but they went as far as to deny Pat Wachter and company from holding the event there at all. This was a major shock. What had happened?!?! There was no time to reflect or question. New plans had to be made, and new locations secured. Alabasterís "love affair" with the Pat Wachter skateboarding contest had come to a quick end.
In 2008, the contest was held at a private skatepark in Madison, Alabama. It was successful, but not quite as big as the previous one and not large enough to include a pro division. In 2009, Pat Wachterís own hometown of Florence, Alabama invited him to come hold the contest there as well as made plans to eventually construct a full-blown public concrete skatepark. On the weekend of the event however, huge storms moved in, and it had to be postponed. It was pushed back to the next weekend, however the damage was done as many people could not change their plans again. Nonetheless, they still had a relatively good turnout. People showed up, and people had fun. That sounds like a success to me, no? But Pat was again hit with bad news. The city of Florence had to postpone the planning and construction of the skate park due to financial reasons (this has since changed and they are planning once more). So, Pat was once again the man with a great contest just looking for a good place to hold it.
But my how times change. The year changed. Politics changed. Past feelings changed. Alabaster welcomed Pat Wachter back with open arms. Apparently there were some changes within the cityís Parks & Rec leadership as well as some other key positions. Whatever had happened, no one was questioning it or spending time dwelling on the past. The city of Alabaster and the Pat Wachter Bowl Contest were together again, and the planning was full speed ahead! May 1st, 2010 would be the day...the day the Pat Wachter Bowl Contest came home!