+ Art of Skateboarding Articles

April 28th and 29th, 2007 at Veterans Skate Park in Alabaster, Alabama
article by Chris Solomon(aka. AMOR-one) photos by Chris Solomon unless where noted
special thanks to all other photographers which include Brian Francis, Tikiwebmaster, Dave Campbell and Feebleminded
Introduction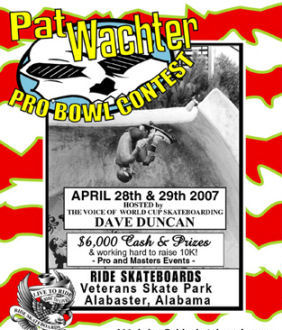 Official Flyer

††† Around April 2006, the Veterans skate park in Alabaster, Alabama opened for business after over two years of hard work by Ride skate shop owner, Brian Kelly. In fact, Brian even closed down his skate shop in Hoover (a nearby suburb of Birmingham) and moved it on-site at the skate park as part of an agreement with the city of Alabaster to take on managing the skate park in turn for seeing his dream through. As a friend of Brian, I can vouche that Brian is a true dreamer, and after moving here from Arizona and being a big part of getting the Anthem skate park north of Phoenix built, he saw great potential for Alabama. Getting a skate park built in Alabama had always been part of Brianís grand plan. Little did he know, however, that Alabama has not had a true concrete park since the early 1980ís. Top that with Alabamaís arcane insurance laws due to the insurance companiesí heavy participation in state politics, and Brian was faced with an uphill battle from the start. But Brian fought on and persevered.

When Alabaster agreed and the skate park finally opened (after 3 long delays of more than 8 months), Brianís vision was that this was only the beginning. He always thought "if I can just get this first one built, then other cities around Alabama will build parks as well" (just like in Phoenix where he was use too and where every neighborhood has itís own pro quality skate park). Brian jumped right in with full force. He arranged demos at the park. He set up skate clinics for new skaters on the weekends. He set up summer skate camps at the park. He started a contest series. He did all of the things most all of us would do in order to draw attention to the park and make it successful. However, the phone never rang. Other than the occasional city leader calling to ask for Brianís ideas on a pre-fab park for their community, they just were not getting it as far as Brian was concerned. And "concerned" he was. How was he going to get people to see what he saw? Then the idea hit him.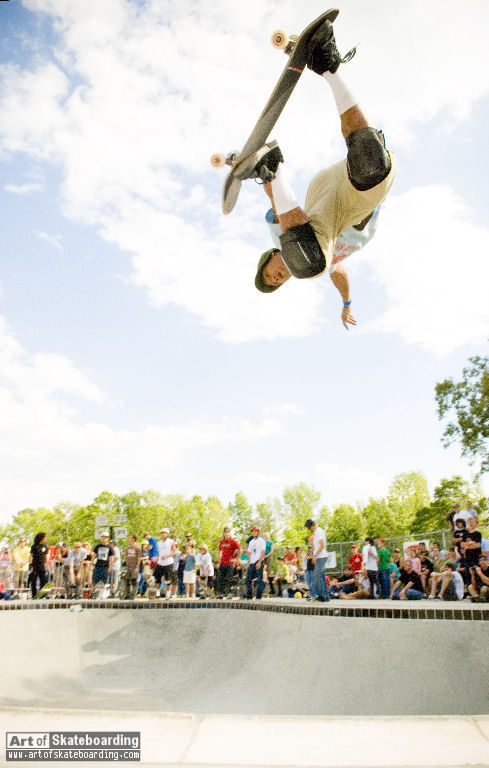 This is what a REAL skate park brings!!!

Sergie Ventura goes big!

(photo by Brian Francis)

††† Pat Wachter, Alabamaís first pro skater (*see Who is Pat Wachter?), had been bringing his team of skaters and coming from Huntsville down to every contest Brian had held. Brian asked Pat if he might be interested in putting together a pro bowl contest at the park. Furthermore, Brian asked if Pat would mind if they named the contest in honor of Pat. Of course, Pat was overwhelmed and all for it. In fact, Pat not only gave his blessing, but he also threw in the first $1000 of his own money to be used for the prizes. So that was it, Pat and Brian started the "Pat Wachter Pro Bowl Contest". Little did Brian realize, but there had not been a pro contest in Alabama since the early 1980's contest in Mobile. This would be huge for Alabama, but the idea was quite simple. Put on a pro contest of the size and quality that shows not only the city of Alabaster that their investment was well worth it and the park has a positive impact, but also showcases the skate park to surrounding cities and city officials so that they understand what a pro quality skate park can bring to their communities. The hope was that the contest would trigger not only further expansion of the park by the city of Alabaster (phase 2 plans have been talked about since the grand opening), but that it would jump start new skate park construction in surrounding areas.

As with the skate park, Brian put everything he had into this contest, both physically and mentally...not to mention financially! He reached out to all the skaters and industry people he knew of to gather support, sponsorship and most important, skaters to compete. Due to close ties with Benji Galloway and the whole Bacon team, Steve Reeves and Josh "Skreech" Sandoval, he was able to pull together some quick wins. By chance, one of his contacts put him in touch with Dave Duncan, and thatís when things really took off. Through Dave Duncan, not only did Brian gain the support of the World Cup Skateboarding organization in hosting and running the contest, but he also had Daveís wealth of contacts and pull in bringing more big names to the contest. This was a hugeÖand riskyÖmove for Brian, but it paid off big time. Finally, the next lucky break came when Brian took a family trip back to Phoenix to visit relatives there. It was right around the time the Goodyear skate park opened. While visiting the park, Brian happened to meet Steve Steadham and his team. During that meeting, Brian was able to convince Steve to come compete. Again, Steve not only agreed, but worked through his list of friends and contacts to try to get more pros to the contest. Everything was clicking along, and the contest was shaping up to be better than anyone could imagine.

I do not want to make it sound as if everything was smooth sailing from there out. There were many companies (most non-skate related companies) that showed no interest at all in sponsoring the event when Brian contacted them.(I am sure that will be much changed next time around and I hope Brian takes advantage of it!) Others were just proving difficult to deal with and wanted Brian to sign into contracts for services after the contest (think " soft drink drink companies"). So although Brian had lined up some great skaters, raising prize money was proving difficult. The city of Alabaster helped out. Some local businesses chipped in. Even ArtofSkateboarding.com kicked in as much as we could (hey, itís my local park!). In the end, Brian raised a little over $10k with $6k going to prizes and the rest covering expenses. Now, with everything taken care of, it was all a matter of waiting for the big day. Sooner than we all thought, the time had passed quickly, and the contest was upon us. The big weekend had come...the first pro contest in the state of Alabama in over 20 years was about to begin!