+ Art of Skateboarding Articles
It's a Wiggley World! - the unofficial story of Uncle Wiggley, UWS and Wiggley Designs
by Matthew Kelty(mkelty) and edited by Chris Solomon
** this article is a work-in-progress compiled with information from various sources where noted
Introduction
This story all begins with an ongoing discussion about some anomalous decks that were produced in 1987 and referenced in Thrasher's "Product Patrol" article in the February 1987 issue.
You can read in the article where Thrasher admits they thought UWS had folded and then they got this "Wiggley Designs" board to review. But was it from Wiggley Designs or was it still UWS?
There was also a Dave Crabb model produced using the Wiggley Designs name on the graphic. So did Wiggley World becomes UWS ? Did UWS become Wiggley Designs? How did Magnusson fit into this? What about SGI? Hence the confusion.....until now?

Wiggley Designs decks? Experts call is an "oddity" at best.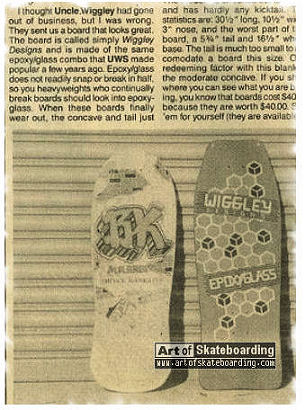 Thrasher Product Patrol February 1987
A VERY short history lesson...
Below is a lot of info and stuff to wade through as recounted to me by Doug Ring (owner and founder of UWS), Dave Bedore, and others who worked at or with UWS over the years. Tony (Magnusson) would be who you would have to hunt down on the whole SGI relationship, but he talks about it a bit in the Sean Cliver Skateboard Bible.

Uncle Wiggley was incorporated as UWS Inc. in 1984 by Doug Ring. Over the years, they made boards for not only their own company and team but a slew of other skateboarding companies...Losi, Blockhead, SGI, Magnusson Designs, Steadham Designs, and even early H-Street Decks.

Many think that when Steve Steadham went pro for Powell and later when Tony Magnusson left the company to form H-Street, that that was the end of UWS. However, that could not be farther from the truth.

Tony really did not "leave" UWS. He was a partner with Doug, and UWS was pressing the SGI Magnusson, SGI Steadhams, Magnusson Designs, Steadham Designs, and early H-Street Decks. UWS was also pressing Losi and Blockhead.

"The pic of the deck I sent is my first model, it came out in '85 I think. That board in the pic is the first one I rode, and I have a mint one in storage. Those first Blockhead boards were made by Uncle Wiggly, they were thin and had a fiber-laminate that made them really light. " - Sam Cunnigham (from email sent to AOS)

In a nutshell, Tony Magnusson got capital funding for H-Street from SGI and Action Sports, and also worked in a relationship to have UWS press boards for them. As to Steadham, remember that Stagoo (Steve Steadham) was an employee at UWS even while he was sponsored by Powell.

So what happened? How did UWS come to an end? Doug graduated in 1988 and went on to other pursuits, Tony had H-Street in full swing, and Dave Bedore was left holding the keys to the shop. He eventually closed the doors in January 1990.
Direct from the mouth of Doug Ring (circa 2008)
A quick history...I started building decks in 1976 (high school), and moved to San Diego in Sept. 1980 to go to UCSD. At that time, I met a number of like-minded guys down here (mostly at school), so I rented a storage unit and started building boards part time. By this time I was using maple, and starting to use glass and epoxy (earlier boards were polyester resin).

Around 1983 I met Tony, and we got together and incorporated UWS Inc. in 1984. We soon moved to an industrial suit (~2000 square feet), and production really started in reasonable volume. The key players were Tony, Steve Steadham, Dave Bedore (primary fabricator), Dave Omer, Pete Percosan, and the various team members that Tony worked with. The first big seller was the Argyle board; we were doing a lot of business with a local distributor (RAX), and some other regional distributors.

Tom Sims got in contact with Tony in 1984 or '85, and we soon started making Sims snowboards using essentially the same techniques. Tom provided the P-Tex and ABS top, we laminated and shaped in San Diego, then back to his shop in Newport Beach for edging and finish work. We made boards for him through 1988, when he moved on to ski-type designs (and shortly outsourced manufacturing to a Euro company). The snowboard work was very enjoyable, and led to a very productive period for experimenting with materials and resin formulations. I still have a foam-cored snowboard that I made using many of the skateboard techniques, but with zone-specific material selection so that the center was stiff (torsionally and longitudinally) while the nose and tail had reasonable flex.

By 1988 I backed out of the day-to-day operation and left it primarily to Dave and Tony. The market was changing quite a bit (death of skateparks, recession), and by January 1990 operations were done. All of the tooling went to Dave, and I know that as late as 1992 he still had the majority; I lost touch with him at that time.

As we discussed, the molds we used were solid male-and-female type, made of fiberglass skins ~0.25" thick and then back-filled with epoxy. They came out pretty heavy, but could press hundreds of cycles if maintained (periodic stripping and re-waxing). If I did this over again, I would definitely look at vacuum molding using a single sided (male) die - the equipment is much easier to get now, compared to the 1980's.

The presses we used (all shop made) were made of steel square tubing lengthwise and rectangular tubing cross-wise. The rectangular tubes clamped together using 3/4" grade B3 threaded rod. We used seven cross-tube pairs, and torquing the rods to 80ft/lb would get us an even pressure of ~90psi. I never had the money to get into a hydraulic press, and we would never have the space to do this anyway - space was always at a premium. We used exactly the same method and tooling design for the snowboard molds.

Oh man, that's good stuff! We made a few street boards, but the vast majority of our boards were vert boards for the period, plus a few downhill boards. We were all vert riders (it's funny - I still occasionally have skating dreams, and in my dreams I'm a much better rider that I was in real life!), with the Del Mar Skate Ranch as ground zero; the Oasis skatepark had closed already. We also spent a lot of time at The Pipeline in Upland.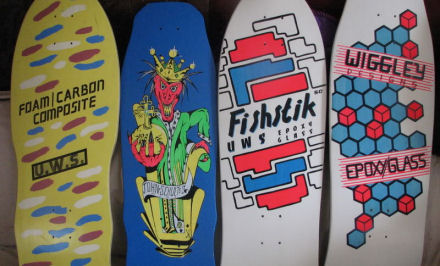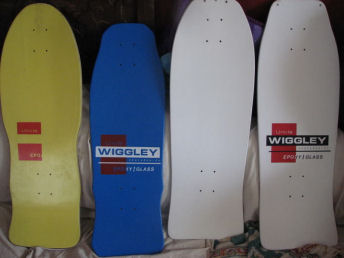 Decks above left to right:
* The yellow board was my baby - the culmination of my foam core/wood frame designs. I loved these boards, but they were too expensive to make in mass production - I think the list price was about twice the cost of a normal board, and I probably made less than 200 over three or four years. Tony used a few in competition, and I think I made production versions of a couple of popular models. The yellow board used the Gen8 mold, the last one that Pete Finley spec'ed for his signature vertical board. The graphics were inspired by the 1986 Benneton formula 1 car - I just thought it looked cool. The core frame was made as a separate sub-assembly. There's a frame that creates the perimeter (approx. 1" wide) and "fingers" that extend under the truck holes. The open area was filled with high density urethane foam, from either Clark or Aircraft Spruce. The skins were made separately, on flat dies, and then bonded to the core as a separate operation, using the 2216 adhesive. Very labor intensive, and the materials were pretty expensive too. But, making money never seemed to be much of a priority!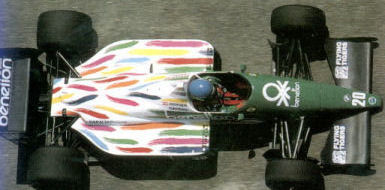 * The two middle boards were normal late 80's production boards - the Schultes and Fishstick. John worked primarily with Tony - a really didn't work with him much. Pete Finley did the graphics, again working with John and Tony. This is probably a Gen 6 or Gen 7 mold. The idea of the Fishstick was something that Dave Omer and I had been playing with for years, and we were very surprised at how well it sold when I finally made a production board with that basic outline. Scott O'Bradovich did the graphics - he was another UCSD student who got sucked in to working with me, a very talented graphic designer and pretty good skater.
* The right board (Wiggley Designs) was the last Magnusson production model UWS made. Tony did the graphics, as I recall. You can see that we were still painting most of our UWS boards, and printing after painting. We also used dyed veneer and clear coats, but more commonly for OEM boards (Losi, Vision, and Tony). This was probably made using a Gen7 mold design - I think I made a total of four of these in total, and we made a lot of boards in 1987 and 1988 using this design.
All painting was done in lacquer. Normally I used a single sealing coat of clear lacquer sanding sealer (high-solids), sanded, then followed with one or two coats of solid color. This method was just getting phased out in 1990, due to the high amount of solvents used in the lacquers.

All of the printing for our boards was done in-house, using special silkscreen frames I built in the shop. I was doing a lot of printing during this period - all of the skateboards, our shirts, our decals, and even the banners that we used at the Del Mar contests.
Direct from the mouth of Dave Bedore
Doug ring founded the company, and he had input from 2 key players, namely DAVID OMER, and PETE PERCOSIAN. David Omer was the 1st and only offical Uncle Wiggley photographer and he had input on the graphic concepts. Pete Percosian was the 1st team manager and he also had input on the graphics. To the best of my knowledge all 3 guys colaborated on the shapes, graphics and overall designs. Doug Ring "IS" Uncle Wiggley himself.... but Omer and Percosian were right there when it all began to happen. They were college buddies of Doug, and I think their connection may even go back as far as High School. Mr. Omer is a very talented photographer to this day, and Mr. Percosian is a very bright "people type person" who was / is very knowledgeable about business in general. All 3 guys are VERY bright guys, and they are all quite cool people to boot. They are not your typical "high strung / over educated pricks"..... They are quite down to earth despite their individual / collective high IQ's.

The 1st commercially marketed Wiggley decks were the Argyle, the Fishstick, and the classic 10 X 30 and were all 6 ply fiberglass epoxy decks. Steve Steadham was the 1st official employee of Uncle Wiggley, and I was the 2nd. This was all before Magnusson was even in the picture at all. We both worked for Doug Ring when Uncle Wiggley's daily production was "illegally" produced out of a 5 X 10 storage locker in Pacific Beach. We would make 5 to 10 boards a day, if that. Doug would drop by the uncut blanks in the morning. He laminated them and pressed them at his on campus college dorm condo, and Steve and I would cut them out, drill them and file the edges by hand and finish sand them. After we took a break and swept out all the daily dust.....Steve would spray the white primer undercoat and I would hand sand the primer and Steve would paint them whatever color Doug told him to. At 1st there was only enough work for Steadham, and I would just go and hang out, and observe the process because I really had no where else to go. I was fresh out of Phoenix, Arizona, and I was basically homeless at the time. Eventually there was enough work for me as well. When we outgrew the "not a real business" storage locker thing, Doug moved the company to 8670 Miramar Road, Suite M, San Diego CA 92126.

As for Tony Magnusson's involvement, Tony was already a bit of a "youth oriented celebrity" over in Sweeden. Upon imigrating to America, Tony rode Powell equipment and wanted to ride for Powell, and he was probably good enough of a skater to do so, but Stacey Peralta didn't think he fit the "Powell Image" so it just simply never happened. Because we were all Del Mar Skate Ranch locals, Magnusson and Steadham became friends and Steadham turned Tony onto Wiggley decks. Doug made Tony a "partner" later on down the road, because he felt it made business sense for him to do so. As part owner, Tony was super motivated to promote the company and skate as hard and place as high in contests as was humanly possible. Tony also hung around the shop quite a bit and worked simply because he wanted the highest possible return on his investment.

Anyways, we stayed at our Miramar Road location for about 7 years until I moved all the molds, tools and supplies to my home in Encinitas. I still have a lot of the stuff to this very day.
UWS Oddities and Oddballs....Employee Perks!
Part of Doug and Tony's arrangements for their staff was "1 deck a week", and their staff leveraged that to the hilt. "What's the new hot shape? Alva Hosoi Fish? Let's make one!!!"

The deck to the right is a 6 ply, fibreglass betwen the outer skins, all standard UWS assembly. The similarity ends there. It is an Alva Hosoi shape (or darn near). These guys would cut shaping templates for whatever they liked, and keep them around. Chances are in Dave's stash there will be Gonz templates, Lance FP templates, basically anything that was popular and left in the warehouse when they closed. Also factor in UWS pressing other companies decks, so legitimate templates for Vision, SGI, Sims, Blockhead, H-Street, Magnusson Designs, Steadham Designs, etc. were all lying around the shop.

Doug Ring's only rule was this.....Basically all official UWS decks were hit with white as a primer coat (stains were the exception, naturally, but they didn't make a bunch of those). If it wasn't a Wiggley model, no white, hence the flat black. Also no rivets.

So, there could be hundreds of UWS made boards in all types of shapes out there, some unique, some other brands shapes, but the one common thread is standard UWS construction, and all were made and used by the guys who worked there.

But what about that "Wiggley Designs" Dave Crabb model? The mystery continues...