+ Art of Skateboarding Articles
5th annual PAT WACHTER BOWL CONTEST Alabaster, Alabama May 7th, 2011

article by Chris Solomon(aka. AMOR-one) photos by Chris Solomon unless otherwise noted

Introduction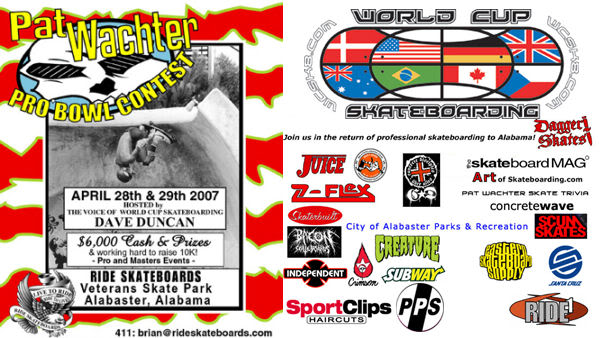 April 28-29, 2007 Alabaster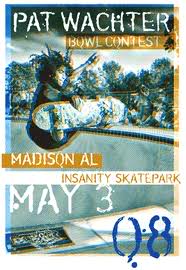 May 3, 2008 Madison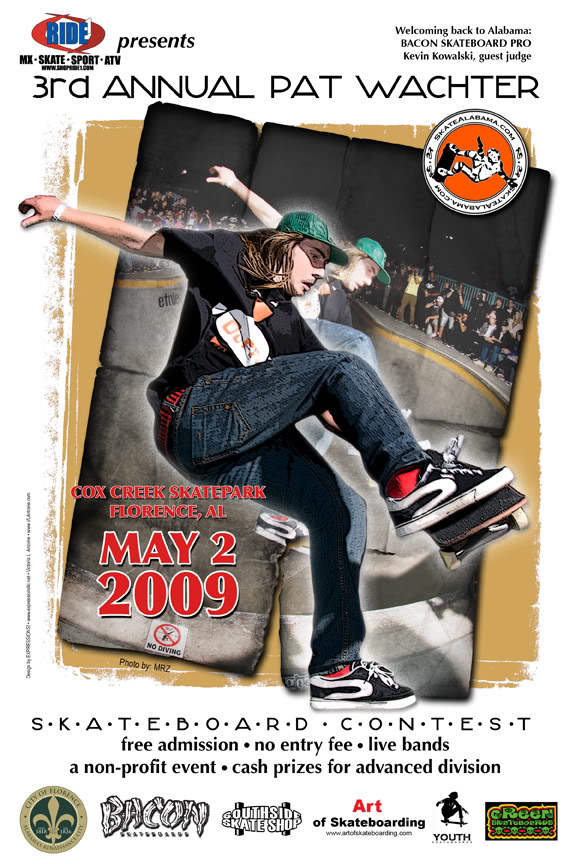 May 2, 2009 Florence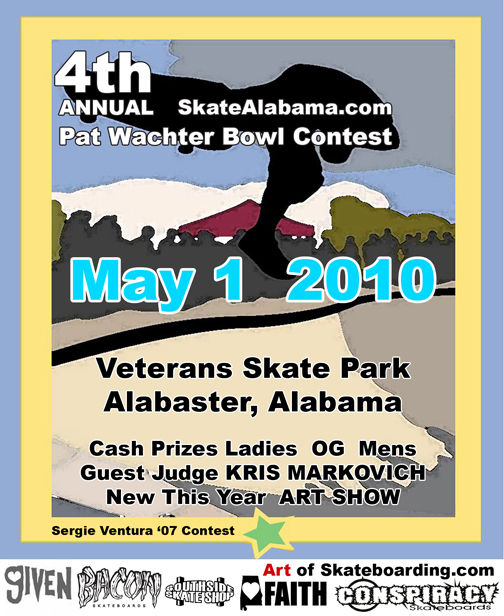 May 1, 2010 Alabaster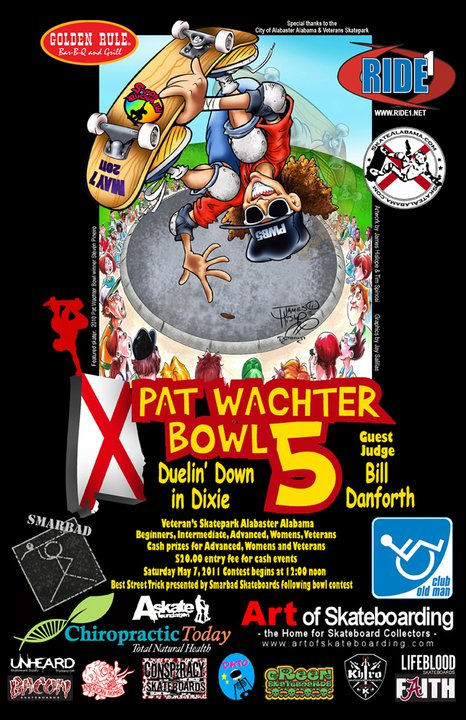 official 2011 poster
On Wednesday April 27th, the state of Alabama was hit with a series of storms and tornados that would be the worst in it's entire history. The storms were massive and left a path of destruction and misery that cut right through the heart of the state from one side to the other. Over 300 people died in the storms just within the state, and if not impacted directly, most people either had friends or family that were. With the contest planned for only a week and half later, there were questions if it should be postponed or even cancelled. With careful thought, however, it was determined that in these hard times, the state needed things like this as a break from all the recent sadness, stress, and slow recovery.
Once again, the city of Alabaster, Alabama agreed to play host for this year's contest. It seems the bridges between the skaters, the skate park, Pat Wachter and the city have been rebuilt, and the city is very supportive. Whatever "bad blood" existed before (if there was any) appears to be a thing of the past which is great to see and hear. It also seems to have helped the contest organizers by allowing them to focus on other things for the event.
Part of every year's contest planning is selecting a "guest" judge. Funny enough, this year's process came quite easy. During the Georgia Bowl Riders series contest in Columbus, GA, Bill Danforth had asked about the Alabama contest and voiced his interest in visiting. He even contacted Pat Wachter directly and had others contact Pat as well on his behalf to put his "name in the hat" as it were. Pat was happily taken aback by this, and was more than happy to invite Danforth to be a part of the contest. That was set. The guest judge spot was easily filled.
Next on the list was gathering up contest money, prizes, etc. by way of sponsors and vendors. This is a struggle every year and even more so during these tough economic times. Some past sponsors returned, and Pat was able to bring in some new ones as well. Sadly, Tim Spinosi spent many months pursuing a "big money" sponsor (ie.$10k!!!) that seemed very interested in being part of the contest as the premiere sponsor as well as food and beverage vendor. In the 11th hour...a mere 3 weeks before the contest...the company decided that this year would not be a good time. Quick on his feet, Tim Spinosi jumped into action and through his network of friends and contacts, he was able to secure Golden Rule Bar-B-Q as the contest's food and beverage vendor. A bar-b-q sponsor at a Southern event? Who would think it, eh? haha Yes, it was an obvious choice, and thanks to Golden Rule for stepping up! Aside from the "regular" skate-related sponsors, Chiropractic Today asked to be part of this year's event as well. They saw the need for educating skaters (who they consider as athletes as much as any other sport but is largely an untapped market) about chiropractic care, injury prevention, exercise and stretching as well as general wellness. Not only did they want to offer up prize money, but they also wanted to set up a tent for screenings, information and actual on-site adjustments. I had never seen anything like that at a contest, so I was stoked to hear it.
It went down to the wire as every year, but everything worked itself out. All was set. Sponsors were in place. Posters made and information sent out over Facebook, emails, and texts. Now it was a matter of the people showing up. On Saturday May 7th, 2011 the fifth annual Pat Wachter Bowl Contest became not only a skateboarding contest, but part of the healing process for a state and it's people. The show must go on!