+ Art of Skateboarding Articles
Taste of the Northwest-

(or "26 Hours in Seattle")


by C.Solomon (aka.AMORONE)

Gordy and son
My *real* job is that of a "business consultant". As such, I get the opportunity to travel all around the country (and at times, the world), see new places, meet new people, and have it all paid for by my company. Some say I am "lucky", but imagine living out of a suitcase and in hotel rooms for the majority of your week and working 10-15 hr days every day. I get to visit my home, furniture and dog only on the weekends. However, one of my favorite "perks" is that I get to take advantage of the travel and skate everywhere I go. Last summer, I got to enjoy all the parks of Phoenix (could do without the heat) and even made a short trip to Calgary and skated Milennium (biggest park in the world at the time). Already this year, I got to enjoy the 69-bowl in the Skatepark of Austin (Texas) and Skatepark of Memphis. Again, all on the company's dime.
One area I always dreamed of visiting, however, had eluded me.....the great Northwestern United States....Oregon and Washington to be more precise. I finally "lucked up" this past week and was told I had to make a trip out there on Thursday July 8th to be part of a sales presentation Friday morning for two hours and then fly right back home. Coming from Birmingham, Alabama, that meant I got to spend about 8hrs travelling over, would be sitting in a 2 hr meeting and then travelling the same 8+ hrs back....that's *if* the airports were running smoothly. That might not sound like much fun to most people. For me, however, all I was thinking about was how I could get over early enough on Thursday in order to skate as much as possible...jet lag or not. I made my travel plans and was all excited to go. I would be arriving at Seattle International airport on Thursday at noon-ish and fly home on Friday at 2pm....26 hours in the Northwest!
Like most skaters outside the Northwest, I had always dreamed of all the wondrous stories and tales I had heard of the area (who hasn't dreamed of a pilgrimage to Burnside!?!?!?). I envisioned skateparks in every neighborhood.....concrete fantasy lands around every corner....more parks to skate than one could feasibly skate in a single day. These mythical legends filled my thoughts as I anxiously awaited my trip. However, after being there and back again, I can honestly say....there are skateparks in every neighborhood and more than one could feasibly skate in a single day. (haha) Because of the abundance of skateparks, I had to plot out my "tour" wisely to make the most of the short time I had there. Using the wonderful resources of Sleestak.net as well as the helpful folks at the Skull&Bones forum, I decided to stay around the Everett area (it was where my hotel and meeting was located as well). I was told to hit "Orcas Island" by all means if I had the chance and if not, I could try the Everett park although it was over run with BMX'ers and clueless fruitbooter kids.
One of the nice parts of running this site and being a Skull&Bones forum member is that I can pretty much count on meeting up with someone in each town I visit. I just simply say "hey, I'm coming to visit" and typically I can meet folks at the local skate spots to join in on a session. This trip was no different. I had been posting on Skull&Bones for a while that I was making the trip. The man behind Sleestak.net himself, "Bobcat", offered to meet me and play tour guide as needed. As the day approached, however, Bobcat was difficult to locate. As a backup plan, I posted on here the day before I left that I would be out that way and who ever wanted to find me could do so at either Orcas Island or the Everett park. Thank God I made the last minute post! I never heard back from Bobcat.
By the time I got into Seattle on Thursday, drove up to Everett (Mukilteo actually), found my hotel and checked in, it was already 2pm-ish. I was craving some real Northwest cuisine, so the hotel directed me to a nearby mom-and-pop's seafood place, Arnie's. I had a great (and much needed) lunch there of Dungeness crab and grilled king salmon (remember, it's the company's dime). With a full belly, I was ready to skate! I asked the waitress about Orcas Island. She (and one of the bus boys that happened to skate too) said it would take about 2-3 ferry trips at about $9 each to get over there...not to mention the rest of the day. So with that, Orcas Island was nixed from this trip. Back at the hotel though, I found out that the Everett park was literally around the corner (remember the "legends" I'd heard), so I headed off to Everett park.

(click pictures to view full size)
Based on Sleestak.net's report, I had not expected much of the Everett park, however, I was pleasently surprised. Maybe it's just because we have little to no concrete parks down South, so my expectations are not quite the same as folks there that have parks everywhere and the option to "cherry pick" the best ones to frequent, but I was quite happy to skate Everett. I quite enjoyed warming up in the street course portion, hitting the small corners, playing on the little spine etc. and then making my way into the bowl via the channel/cut through. I'm not saying the park is perfect....it is lumpy in spots, has sunken coping in most places and is chunked up by BMX'ers abuse, but again, coming from an area with not much at all, this was good enough for me. I was starting to really enjoy finding lines into and around the bowl. It was a good size....not too small and not too big....no vert and not tight...just good for carving around and playing with lines. Most enjoyable to me about the bowl was that it had actual round walls...not the corner-flat-corner design that seems repeated in many concrete parks today.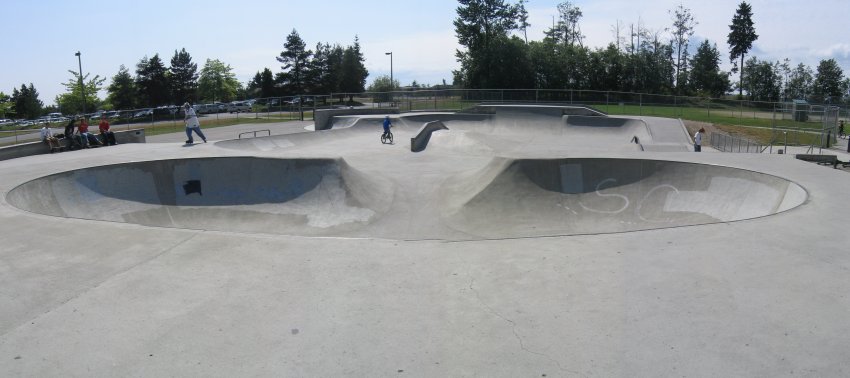 Everett park - full view from bowl end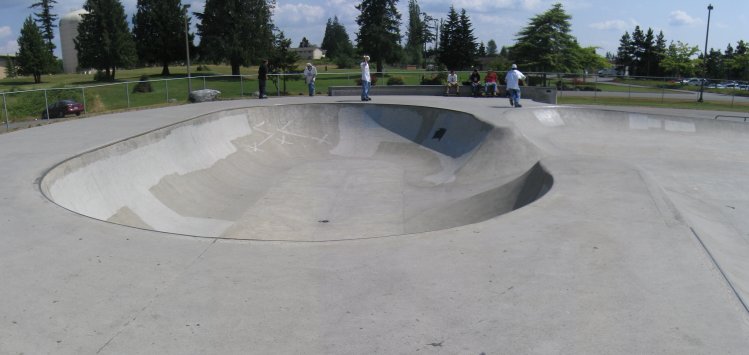 Everett park - bowl (misleading because the right side with the channel
as pictured here is about 6ft
and the left side is about 8ft)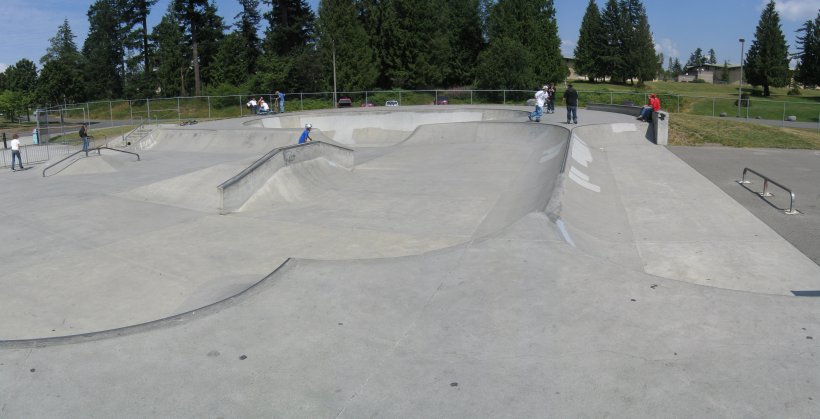 Everett park - spine and street-ish area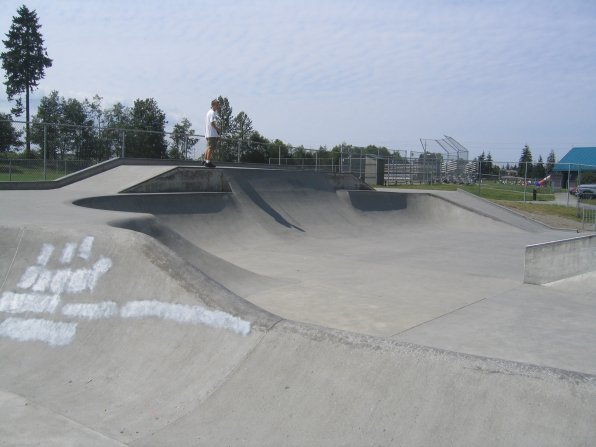 Everett park - back end of street-ish area
I was just starting to really warm up and get the hang of the park when I noticed a guy about my age walk up with a infant boy in a stroller. The guy was not dressed for skating, so I thought he was watching his kids at the park or something. During one run, I rolled nearby, and he asked "Are you the guy from the Skull&Bones forum? You do that ArtofSkateboarding.com site?" Well, it turns out, his name was Gordy Barnes aka. "bigsmooth", and he is an active member on the Bull Dog Skates forum (and sometimes lurking member on Skull&Bones). He had seen the "news" post on here and dropped by to meet me. He wasn't even skating, just had his young son out for a stroll and was making sure I found my way around! How cool is that! Soon into our greetings, he mentioned that there was a "much better" park nearby...you guessed it....practically just around the corner. He said it was rather new and not even listed on Sleestak.net yet. It was called "Mill Creek" and he volunteered to drive over with me following him...again, even though he was not skating that day. I was stoked! I quickly packed up, and we were on our way. It was only a 5-6 mile drive....mere minutes away.....from Everett, you take Casino back out to Airport Rd. by Boeing and take a left. From there, you drive down a good ways till 16th and turn right. Turn right again and drive past the gas station intersection, and you will see Mill Creek on the right.
Mill Creek is actually a recreational park. The skatepark sits right next to a little league baseball field. The park was well designed and makes the most use of the small area it has. A fairly well planned street area that mimics most everything a street skater could want (even down to a concrete representation of a picnic table) sits to the left and is well divided (against run away decks) from a large bowl on the right. The bowl is not really for beginners. It has a 4-5ft shallow that waterfalls into a 9 1/2 ft deep end. The 9 1/2 ft section actually starts at about 8ft around the waterfall and has a escalator extension that adds the additional 1 1/2 ft of vert all the way around. I wisely donned my helmet but foolishly not my knee pads (something I would later regret), and set off to riding the bowl. Between runs, Gordy filled me in on places to go and things to see if I am back in Seattle for any extended time. He was playing the great host...I was grateful to have met him.


Mill Creek - panaramic view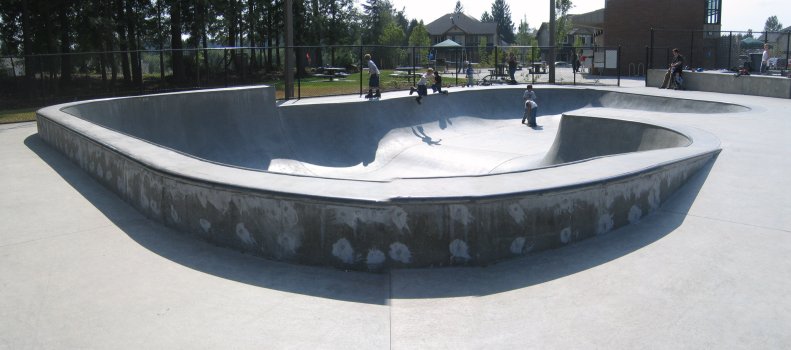 Mill Creek - deep end bowl view
(that's about 1 1/2ft vert extension added all around)

Rare pic of yours truly, Amorone, bailing a frontside air
in the deep end...sorry, it's the only pic I got of me from the trip.
As the saying goes, "you start playing around and someone will get hurt". I was really starting to get the feel of the bowl and playing around with different lines. As I was one of the few people skating the bowl at the time and probably the only one taking actual runs (yes, the kids love to drop in the deep and launch out of the shallow like most all other parks), I was getting a bit winded. I started to "dork around" and ham it up a bit trying tricks I had no intention of landing. Gordy was also clicking a few pictures for me. Recently, I started getting back some of my old bag of tricks. One such trick is the ol' ollie blunt backside 180. I have gotten them back fairly consistently but hadn't tried them again on anything of size (ie. over 6-7ft). I decided I would try one on the 9 1/2 ft section if for nothing else than just to get the feel of them back on vert. So, I dropped in, did my set up line, rode up the big wall and got into the blunt. However, I had rode up a little far on the tail, so when I popped around on the backside 180, the board kinda flapped and I was looking to bail. It's funny what goes through your mind as you are bailing....I think in my mind I went "Oh shit....I'm not wearing knee pads!". My only option was to run out of it. Having popped the ollie a little much, I was out from the wall a good bit. I pretty much went from the top to the bottom in one leap. My right foot smacked the concrete....it sounded like taking your shoe off and smacking it on a kitchen counter. Whack! It's funny what goes through your mind after you bail...I think this time my mind said "Oh shit! I think I broke my heel." I had that nice delay of a half second or so before the pain hits you when you aren't really sure if you really fucked up or not. In my case, I had. My foot started to throb a slow dull pain. I tried to play it off and hobbled out of the bowl as the little kids went "oooooo! you ok, mister?" I said I was fine, but my heel was really hurting. Thankfully, I got off easy....it coulda been MUCH worse...I could tell it wasn't broken and more importantly, my ankle had not snapped (easy to do when your foot suddenly stops but your momentum keeps going. As I sit here now some 5 days later, it still is very sore....deep bone bruise....but I may be skating this afternoon.). I sat a while and talked to Gordy as I waited for the pain to hopefully leave. Drank down a Gatorade, but I was still in pain. I took one more run, but even running out of a bail in the shallow end was excruciating. I told Gordy I couldn't go on and that would be the end of my day. It was ok though. I had skated a good bit already and was pretty tired (not only from skating, but the day of travel as well). I said thanks and good-bye to Gordy and his son and headed off to my hotel. So ended my whirlwind skate tour of the Northwest.
Before I end this, once again, a big thanks to Gordy Barnes for playing tour guide and great host. If all goes well, maybe I will be back in Seattle for a good while on the project....doing a little work and a LOT of skating!....and I will remember to wear pads. (haha)