+ Art of Skateboarding Articles
July 4th Deep South Hospitality-
(or "How I spent my 4th of July 2004 in Gulf Shores, Alabama")

by C.Solomon (aka.AMORONE)
For this 4th of July celebration and holiday, I decided to skip the usual drunken blur of 4 days in Destin, Florida with friends, and instead visit my folks, my Sis, her husband and my newly born nephew down in Gulf Shores, Alabama....still on the good ol' Gulf of Mexico, mind you....just more "family time". Now, I have made this trip on many an occassion....my Sis and her family have lived there for 5+ years now, and my parents keep a place there as well....however, I had never been able to find so much as a quarterpipe to skate not to mention, anyone to skate one with if I did happen upon one. Nope, every trip down there meant a break from skating unless I wanted to venture over to Pensacola to skate their park. But this time, things would be different.

The day before I headed off on vacation, Rob Andrews posted on SkateAlabama.com that he had just found the site, lived in Gulf Shores and would gladly play host to anyone that visited to take them on the tour of all skate spots including the 3 mini-ramps they currently had in place....."3!!!" I thought as I read his post in full. I immediately fired off an email to Rob letting him know I would be down his way for the holiday and would love to skate any and all spots he could point me too. Well, Rob responded by day's end and was stoked I was coming down there...I hadn't even met him yet and he was practically welcoming me into the fold as one of their own. Turns out, we knew a lot of the same people from over the years in the Birmingham area. So, as I headed down to the Gulf, I was looking forward to not only some quality family time (it had been months since I saw my nephew last), but I was now equally excited to be skating some new terrain with some new friends.

(click pictures to view full size)
After getting down to my Sis' place at around noon, having lunch and playing with my nephew a bit, I ran by my folks place, unpacked, changed clothes and was off to find Rob and these ramps I had heard about and envisioned during the whole drive down. Rob beat me to the punch and called from work. It was a beautiful day and close to the holiday, so he was thinking about skipping out of work a bit early to skate. He told me to meet him at "Tater's Ramp" for our first stop and gave directions. He said he'd call as he was leaving. I was jonesing to skate too much, so I headed on over based on his directions. He had told me..."Tater's ramp is your typical backyard, wooden ramp". As I pulled up and checked it out, it was anything but typical. Tater's ramp is 32 ft wide, 5ft high with a 12 ft section on either side that extends to 6ft....oh and did I forget to mention....it is a 6ft transition. Super tight! Super fun!
| | |
| --- | --- |
| Tater's Ramp - full view | Tater's Ramp - 6ft trannies |

View from dropping in...
into the mouth of the beast,
it's jagged teeth (splinters) await your misstep

Rusted steel coping....mmmmmmm
| | |
| --- | --- |
| When I first got to Tater's, there were 2 guys skating with another looking on. I was "informed" by the spectator that it really wasn't cool for me to skate unless I was there with Rob since I had not met Tater yet. That was understandable and alright by me. I figured I would go check out the nearby surf/skate shop, John Blonds Surf & Skate (some name eh?) which I had heard from the two guys there, had a small 4ft ramp in the back. This was not one of the 3 ramps Rob mentioned, but it was yet another "possibility". After seeing it first hand, it was not even much of that. I stayed only long enough to click a picture....which I lucked up and caught as a fruitbooter kid layed himself out on flat bottom. | John Blond's ramp |
I returned to Tater's and no one was around. I was able to sneak in a few runs. The ramp was a challenge to say the least. It felt like a very tight pool....like 32 ft of shallow end. I did well to carve frontside and backside, let alone grinds of any kind. The combination of the heat, the fast ramp, and being the only one skating, I soon wore myself out in a few runs. I still had not heard from Rob. He had mentioned a skatelite covered, 3 1/2ft ramp back above Gulf Shores. I decided to head that way, call him to meet me, and convince him to go skate that ramp versus Tater's ramp (since I had already skated it a while). Well, I finally reached Rob and through some logistical changes, we met up, and I followed him to onward to "Rick's ramp". "Rick's ramp" is owned by Rick Morgan, one of the most dedicated skaters I have met....seriously along the lines of Brewce Martin's dedication to skateboarding. He lives on a large piece of land (think "farm" sized) with his sons, Kyle and Jamie. It took a little while to get out to his place, but we pulled up and my jaw dropped....see the pictures below to understand.....

Rick's ramp - back view as you
walk up to the ramp
(yes, that is a full-pipe being
reconstructed behind the ramp)

Rick's ramp - side view
With some hard work and donations, they had constructed this in only 6 months or so. Never had I seen, a backyard ramp layered in skatelite, and built so well on top of that. They have plans for much, much more. I joked with Rick "So this place is gonna be the Skatopia of the South". With all seriousness, Rick replied "Yeh....other folks have said that too...that's my dream.". Seeing what he has there and the plans he laid out of what is to come, I can definately see it happening. Soon, other skaters showed up...Corey, Pesci, Tater, The Russian...and we had a full on session. It was a great time......no vibes, just a fun afternoon of skating. Soon, I had to say good-bye for the day, and head back for dinner with my family. I thanked everyone for the tremendous hospitality and made plans to visit next time I was in town. I thought I would not have a chance to see them again on this trip, but surprisingly, there would be one more time...the best was yet to come.

Rick's ramp - session time
Rick's son, Kyle, ripping it up

Rick's ramp - Corey floats a
foot-flapping ollie over the channel

Rick's ramp - Corey again
but with an ollie grab this time

Rick's ramp - Rick himself with
a big frontside ollie across the ramp
No skating at all on Saturday. Spent the day at the beach drinking beer, getting some sun, and just plain ol' relaxing.
| | |
| --- | --- |
| Beach view...crowd for the holiday | Beach babe...a little scenery |
Sunday was the 4th....the big holiday itself. Like many others, I spent the day with my family and ate bar-b-q till I was stuffed. I really had not planned much for the evenning. I figured I might catch the fireworks somewhere. I recalled Rob mentioning a big party at Tater's, but I did not want to intrude given they had all been so hospitable already. Just about the time I was mulling over going or not, Rob called and asked where the hell I was. He said he was at the party and come on over. Wow! Talk about timing. So I headed out. Due to the mad dash of most everyone in town to get to the beach in time for the fireworks show, I had to navigate over to Tater's via a back route. Even then, it still took a good 30 minutes to take a typically 10 minute trip. Once I pulled up at Tater's at around 8:30 pm, I knew I was in for a good time. It was absolutly amazing! Families everywhere, kids playing together, wives and girlfriends chatting away while some guys skated and others hung out talking over beers, music being played on a nearby guitar, tons of good food, and much much more. Rob said this was typical...."we have a really tight scene here....everyone is family". I had heard him say that once before, but seeing it in person made me a believer. Everyone always says they have a tight scene, blah blah blah, but this was the real deal....doing it how it's suppose to be done. Surfers, skaters, musicians, etc. all gathered together to celebrate and have a good time. Rob (and his wife)was once again playing the great host and made sure to introduce me at least twice to each and every person there. (haha) I even met an old Alabama native, Greg Bloodsworth, that all the SkateAlabama.com folks from Huntsville grew up with!

As I got there, a small session was going on the ramp, but everyone soon took a break to shoot fireworks. Rick had spent a small fortune on fireworks...not the small, pissy bottle rockets and pack of snakes.....the good stuff...the BIG fireworks...."mortars". He was as much a kid as the kids there as he lit each one off with a giggle and smile. Right before we headed over to the beach to watch the city's fireworks over the water, Rick lit off a roll of fireworks about the size of a small spare tire. I didn't think they would ever end! It definately shook some windows....nice smell of smoke filled the air as well. So after that, the entire party (50+ people) walked together over to the beach. The show from there was beautiful....nothing like fireworks reflected over the ocean. There was not a cloud in the sky, so the show was even better than normal. Sadly, about half way through, my camera battery died. I wanted to get that one last shot of everyone on the beach together. Oh well....note to self....ALWAYS charge the battery!

After the big show, we all walked back over to Tater's to re-start the party where it left off. Everyone was feeling good by this time of night....especially Rob who kept screaming "Independence!" to the dismay of more than a few neighbors and passing motorists. Back at Tater's, as if drawn back to the ramp, lots more folks were skating than before. It soon became a full on "bro session".....old friends and new skating together once more...everyone was getting stoked off of each other and some amazing tricks were being thrown down. Rick and Steve (visiting from Mississippi) were especially taking turns putting on a good show. Both Rob and Tater were carving across the entire walls as if they were locked inside some wave. It was wild to see some skate with very surf-styles while others had very tech-styles and then others yet that even had a mix of both. I am not use to seeing folks who live on the beach and surf also skate as you see everywhere out West. It was really cool to see that Alabama can represent like that too!

As the night grew older, I soon had to go. Rather than try to go around, locate everyone and say good-bye (again), I just found Rob and let him know I was off. I made sure to tell him to pass along to everyone how much I appreciated everything and how I was looking forward to skating with everyone again. In true Gulf Shores style, he said "hey, you skated with us, partied with us, met everyone....you're in....you're one of the family now". That's how it is there...that's their scene....I highly suggest making the trip to find out for yourself. To everyone.....Rob (and his wife and daughter), Rick and Kyle, Tater, Corey, Pesci, and whomever I might have forgotten....a BIG thanks again!!!
| | |
| --- | --- |
| View of the party....ramp side | Rick floats a frontside ollie on Tater's ramp |

Rick with a tweaked invert

Fireworks at Tater's
...this was the roll of fireworks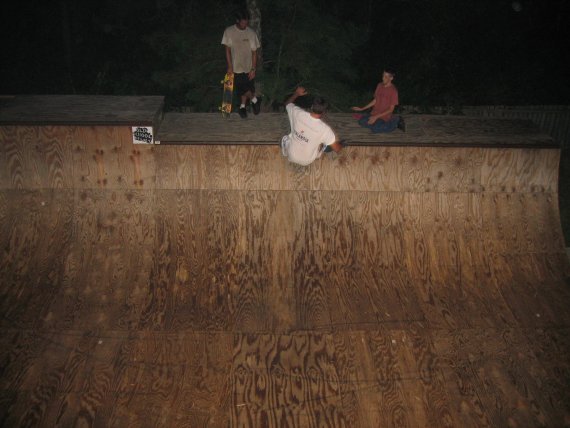 Rob shows major cajones with a frontside 50-50 on Tater's ramp
(viewed from above from the deck)